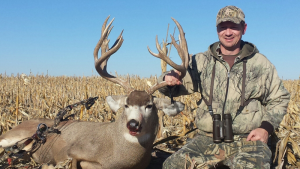 First Place Choice of Flagship Bow
from Mathews, Hoyt, PSE, Prime, Elite
Embroidered Carhartt Jacket
Second place Full Shoulder Mount By Jerry Kissinger
Third place Easton Whitetail 1500 Backpack/Duffel Combo
Fourth place TightSpot 5-arrow Quiver
Fifth Place Rinehart Woodland Target
BONUS Prize-Scent Crusher Gear Bag- Will be randomly drawn to someone not in the top 5.
$30 to enter this includes banquet/must be entered by October 1, 2016
Total gross inches will determine total score. Measuring will be done by Jerry Kissinger. You must be registered prior to killing animal. Animal must be taken with archery equipment. Cross bows are considered archery equipment Animal must be tagged by Dec 31st. 2016. Call Diamond Archery for more details 316-265-0651.
We will also be having a dinner banquet at the end of season for all our contest participants. This is where we will present the winners with their prizes.  Date for Banquet to be announced after the season.
If you cant make it in the store go to our online store. You can buy the big buck contest and you will be entered automatically. Must be before October 1st.